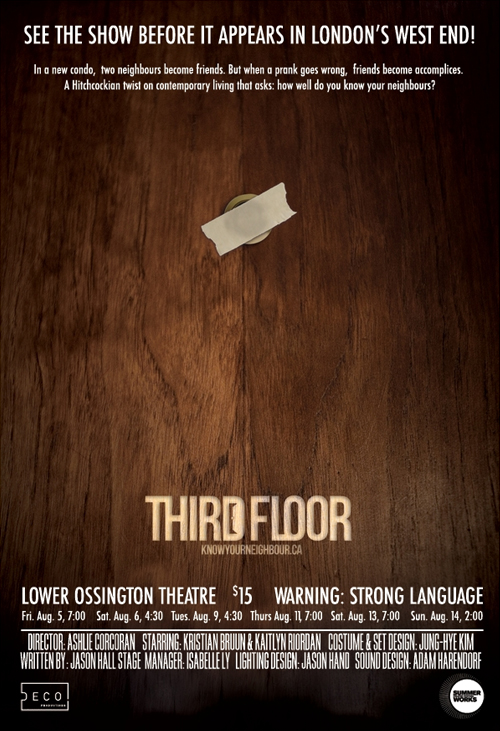 Just the other day, I was having a discussion with a client about the lack of live theatre in the City!  Sure, we have our Dancap's and Mirvish's, but the smaller indie productions are few and far in between in my opinion.
Sure enough, in a serendipitous series of events…I recieved an email from the blog about a new play about first -time buyers, and the trouble they get into!  The play is called Third Floor and takes place in a brand new condo, where two neighbours become friends. But when a prank goes wrong, friends become accomplices. A Hitchcockian twist on contemporary living that asks: how well do you know your neighbours?
The play will take place at the Lower Ossington Theatre, (100A Ossington Avenue) on the following dates:
Friday August 5th 7:00 PM
Saturday August 6th 4:30 PM
Tuesday August 9th 4:30 PM
Thursday August 11th 7:00 PM
Saturday August 13th 7:00 PM
Sunday August 14th 2:00 PM
Check out the trailer below…and if you're looking for some delishous after theatre eats, try The Golden Turtle Restaurant (125 Ossington (at Argyle). 416-531-1601) best Pho around!