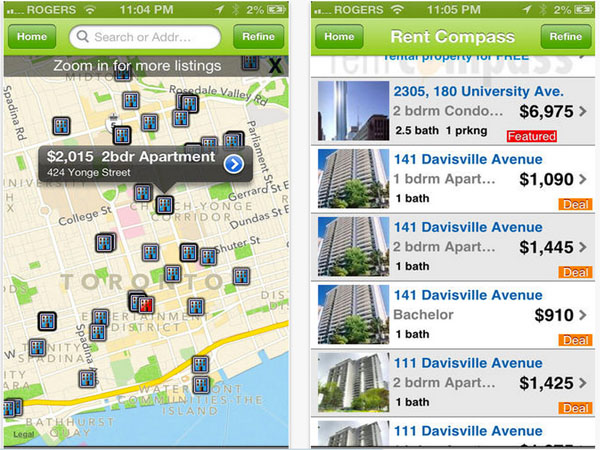 Finding a rental in this big City is no easy feat! Sure, the MLS is a great place to start – and having a Realtor help you out is always a useful option… but both can sometimes be limiting. Enter: The iPhone Apartment Rentals Search by RentCompass Inc.
According to it's iTunes description:
Imagine walking around your favourite neighbourhood and you wonder if there is a place for rent nearby. Well, there's an App for that. The RentCompass App combines everything we love about iPhone maps and location services to deliver an unparalleled experience.
Find rental apartments and houses on the go while commuting to work or school, or while sitting in your favorite coffee shop.
Like a property you see? Browse the property photos in full screen, contact the listing agent/landlord instantly via email or phone. Don't have a data plan? Simply mark the property as a favourite and it will be downloaded on the device for off-line browsing.
The App is free for renters and listing is free for individual landlords. We are proud to be Canada's first rental listing service for the iPhone, iPad and iPod touch.
The app is made by the same forward thinking company that brought the TTC Rocketman App to Toronto a few years back! The biggest competitive advantage that I feel this app has over other "rental classifieds" is that they allow all landlords and property managers to post for free. For renters, this opens up an even bigger selection then the sometimes limited availability of the MLS.
The app is available as a free download and works on a variety of platforms! Check out a short video of the app in action below.