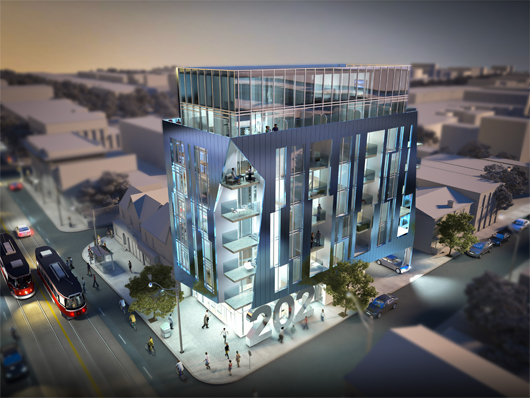 As I first wrote back in December, Symmetry Developments has a brand new condo/loft in the works!  At the time all we had to work with was a rough preliminary rendering … but now we have a much more refined image (pictured above), a name to call this gorgeous structure, and even an address!
Very much true to it's design, the loft will be called Origami and will be built at 202 Bathurst St. just north of Queen.  The opening of CB2 is a further testament to the changes happening in the area and a clear indicator of the transitions taking place!
In a move similar to their Hive Lofts in Etobicoke, Symmetry has brought Teeple Architects back to design Origami.  I especially like the way the penthouses appear to be floating above the building, and the large "202" at the base of the building.  It serves as functional component to the structure, as well as a topographical one for those living at the lofts!
The latest from Sayf is that they're still tweaking the design and should have an even awesome-r rendering in the coming weeks!