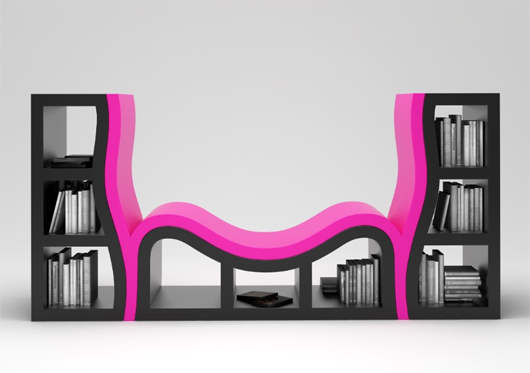 It's been one hot summer so far in the City!  With half of it gone and half more to go, I'm happy with the amount of reading I've been able to accomplish.  To cool off from my stuffy office, I've been sitting outside on the porch reading a few chapters every night.  The breeze that blows down the street is so relaxing…but just like a good book, I know that it won't last forever.
With thoughts of a cold winter in the not too distant future, this hot pink and black bookshelf bench is looking like the perfect furniture piece to beat the blues!  The bench doubles as a bookshelf and provides storage space while showing off your collection of books.  Although pink isn't my colour of choice, a few bright book sleeves can work well with the bench and really change the dynamic of it.  According to it's website, the bench is made of a curved wood and comes with a synthetic leather cushion!
They do ship this piece, but it will set you back $7,500 before it arrives!  For some great recommendations to read once it's set up in your home, try: Mr Shmooze by Richard Abraham, Driven by Robert Herjavec (from Dragons Den) and Decoded by Jay-Z.