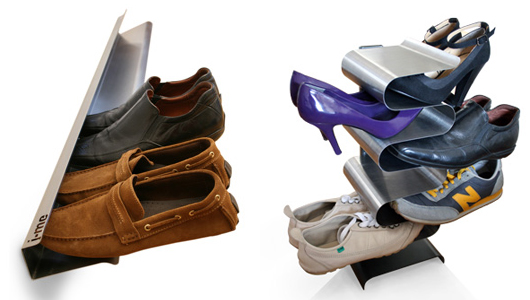 My mother often says "i'm worst than her with all the shoes I have"…and this past weekend, I discovered she may very well be right!  I've got my running shoes, working shoes, weekend shoes, house shoes, water shoes, gardening shoes etc etc. BUT what I don't have is a lot of space to keep all these shoes.
In an effort to solve my shoe collection of a problem, I came across two creations from brothers Jaime & Mark Antoniades of J-Me Original Design.  The two work out of London's Oxo Tower,and follow a focused design ethos which results in a range of products that encompass original, intelligent design and everyday function.
The Horizontal Shoe Rack was the first possible solution that caught my eye.  It's a stainless steel shoe rack that can be mounted to a wall giving it a floating look while holding up to 4 or 7 pair's of shoes (available in two lengths). Stacking 3 or 4 of these above each other can create a wall of shoes allowing for quick access an open display.
The second choice was the Freestanding Nest Shoe Rack (also available to mount on the wall).  It comes in one size and holds about 7 shoes.  I like this one because even without shoes it looks like a steel sculpture that can be on display as is!
Both can be purchased online from the brother's website … or if you'd like a space big enough to fit all your shoes without resorting to a rack, Contact Me, I'd love to help!