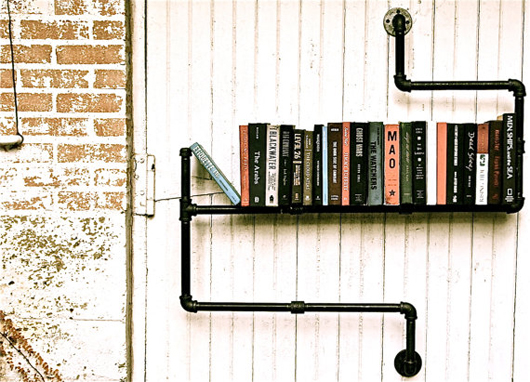 By the time this post see's the light of day, I'll be somewhere in the sky between Toronto and NYC…  I'm heading to the Big Apple for a week of sights, sounds and a little creative inspiration!  Whenever I fly, I like to use the time to catch up on a few books in my never ending "must read List".  For this trip it's Russell Simmons latest book entitled – Super Rich: A Guide to Having it All… which leads me to this weeks Must Have Monday item!
Let's face it, as great as our iPads and Kobo's are, nothing beats the experience of reading a good ol'fashion paperback book.  The problem with these books is that they take up vital storage space in my 50 foot office! But alas, a solution has been found in the form of an iron pipe and a few well placed welded joints.
The Industrial Pipe Bookshelf (pictured above) can easily add some much needed real estate to your space while adding to the cool factor of your room!  The shelf was designed by Stella Blue on Etsy and comes in a variety of shapes and sizes… they even take custom orders.  This one is priced for $146 and can be shipped to Canada. Use the shelf in a hard or soft loft and marvel at your favourite books on display!