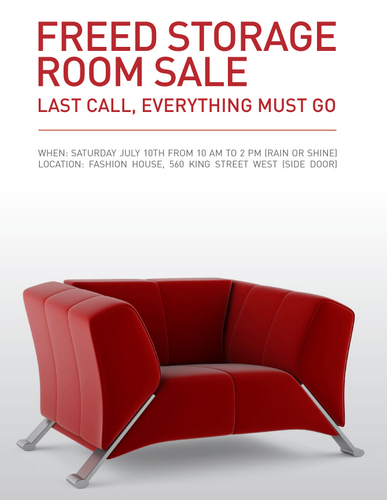 Have you ever wondered what happens to all the fancy furniture in condo sales centres?
Sometimes it's re-used, sometimes it's tossed…and on some rare occasions it sold at a bargain price!  On Saturday July 10th, 2010 from 10-2 all the left over furniture from the Freed showrooms will be put on sale.  One of Brad Lamb's projects in King East had a similar sale a few months back.  I stopped by for that one and saw a ton of great furniture for crazy low prices!
I'm guessing this should be the same…or possibly even better!  The Freed sales centres are some of the best out there, so if you're thinking of attending, SHOW UP EARLY!!!
…and if you need the condo before the furniture give me a call or send me an email.  I'd love to help!