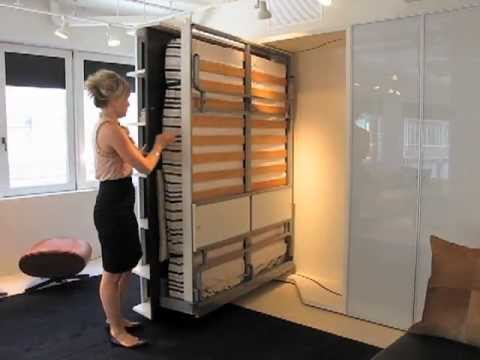 Do you have an extra 80 inches in length and 40 inches in width in that den of yours? If yes, then that's just enough room for 2 beds! The clip above is from New-York-based Resource Furniture. Watch in awe (as I did) as they demonstrate how a little ingenuity can give a small space a lot of room!
I've never been a fan of the 300 sqf studio, be it for living or an investment but as the price of land in Toronto goes up; the spaces we call home are becoming smaller! It's inevitable as developers try to facilitate as many units possible into their towers to maximize the profit on the project. Even traditional 2 bedroom units are being built with less square footage than their older counter parts.
If you look at a building like The Esplanade, it's very common to see 1 bedroom units pushing 700 sqf. Compare that with many of the newer buildings going up and the same square footage is now housing 2 bedrooms! Space saving decor like the ones available from Resource Furniture are the key to using every square inch in your condo and making the most out of the limited space available!
…I wonder if there's a foldable garden available?
Ready to find your own space in one of Toronto's many condo towers? Give me a call or send me an email… I'd love to help!